Install Instructions Help
---
2 ways to install the tools.
---
If you wish to upload the tool manually instead of using the Shadow Software Windows Installer please click HERE for PDF instructions.
---
Follow these instructions to use the Shadow Software Installer. (recommended)
The Downloaded tool is a self extracting ACE EXE. Just double click on the tool and follow the instructions.
The ACE file will contain 5 objects. FileName.txt, Install_AS400.exe, Shadowlogo.jpg, installhelp.htm, and a file with a .SAVF extension. This will be placed in the default folder c:\temp.


Once Un-ACEd you will be asked if you wish to launch Install_AS400.exe. If your AS/400(iSeries) is attached to your PC by TCP/IP we recommend that you say Yes. Below is the window that will appear.
Please note that the save file(.SAVF) uploaded to the AS/400 will be deleted and only the program tools will remain.


Once Upload Utility button is pressed you will see a dos box open showing the upload of the tools.


Upon completion press the OK Button and the Install window will close.


Note: If you upload to the same LIB with old tool version your License data will not be lost.


Note: After upload is complete type GO UPLOAD_LIB/CMDSHADOW at a AS/400 command line to get to the Shadow Software Menu.
---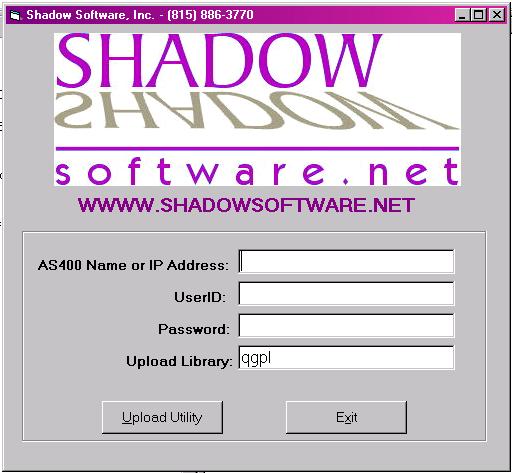 AS/400 Name or IP Address: This is the name stored in your Hosts table file or the TCP/IP IP address of the AS/400. (Example: 192.168.1.100)
UserID: This should be your AS/400 User id. Minimum authority requirements are *ALLOBJ (all object).
Password: This should be your AS/400 User id password; it will not be displayed.
Upload Library: This is the library were the tool(s) will be placed. QGPL is the default library.
---
[Home] [Support] [Support - Known Problems] [Support - FAQ] [Support - Install Help] [Search ShdaowSoftware.net]
[Product & Services] [Contact Info] [Tools Download] [Order License Code] [License Information]
Copyright © 2001 Shadow Software, Inc.
ShadowSoftware.net is a registered trade mark of Shadow Software, Inc.